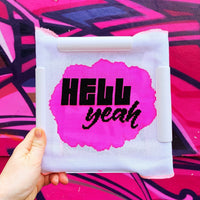 About
Stitchsperation is a range of modern cross stitch kits for people ready to look away from endlessly scrolling on their phone and bring some colour and creativity into their lives. These cross stitck kits are designed and made in the UK for people who love modern design, bright colours, typography and inspirational quotes. 
Featured in XStitch Mag, CrossStitcher magazine; Cross Stitch Crazy; Be Creative with Workbox magazine; Perfect Wedding magazine; Love Sewing magazine and on Channel 4's Craft it Yourself, these kits have definitely made a name for themselves.
It's time to put down your phone and get stitching!
Shop Our Modern Cross Stitch Kits Now!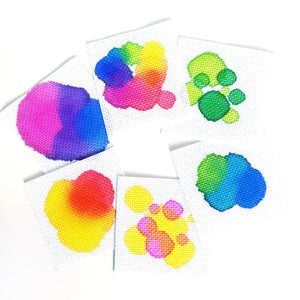 Bright
Every Stitchsperation modern cross stitch kit comes with one of a kind hand painted or screen printed fabric. I spent a year before launching to make sure that the colours are bright, stay bright and don't transfer after hours of stitching and even washing.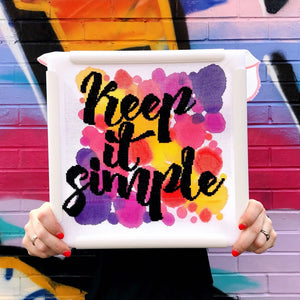 Simple
All the original Stitchsperation modern cross stitch kits come with just one colour of high quality DMC embroidery thread which pops against the brightly coloured background.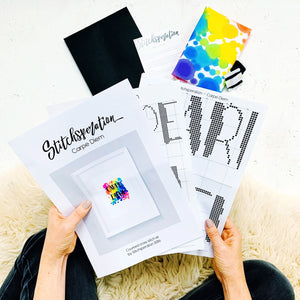 Mindful
Stitching is proven to be beneficial for health by inducing a state of mindfulness.​ The repetitive, rhythmic motion of stitching, focusing on one thing, and only using one colour to stitch with, helps to tune out the world and give some peace to your day.
reviews
Fantastic kit! I enjoyed stitching this so much that I have bought two as presents for friends! The colours on the fabric are gorgeously vibrant, the pattern is so easy to follow and the finished product is amazing! Would recommend to everyone!

Sarah
Wooow! I have never been so impressed with a company's packaging.

Customer
I love this cross-stitch so much. Great instructions, comes with everything you need.... I would say I can't wait to see mine finished but actually I'm loving the process too much.

Nickie
Everything in this deluxe package was of fabulous quality, would definitely recommend.

Aislinn
It's official, cross stitching is cool again.

Perfect Wedding Magazine
Imaginative kit, beautifully packaged and promptly delivered. This is how a business should be run!

Claire
This is my second cross-stitch kit from Stichsperation and i'm totally addicted to them. Hmm which one to get next!

Laura
These designs are wonderful! Great customer service and fast shipping. I'll definitely come back for more projects!

Lizette
Made me fall in love with stitching.

Amy